We like the Challah from Trader Joes, and one of the advances of this century is that you can buy it almost any day of the week, whereas in the ole days it seemed to be a Friday/Saturday bread. We usually make french toast out of it on weekends or just plain toast during the week.
In a moment of inspiration I decided to dig into a recipe from Anne Willan's Cook It Right and four or so hours later I had a loaf that turned out amazingly well.
The finishes wasn't quite perfect – I didn't know how much egg wash to put on. I put it on fairly heavily and it didn't end up even in spots – noone complained, but next time I'll drench it more.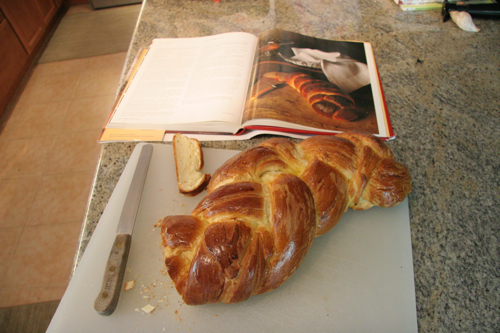 The next day we had it for french toast and it was good, and there was still half a loaf left when we finished.
Big, fun, yummie and impressive. This will be repeated.